Allied Healthcare, Barry Branch get fundraising for mental health!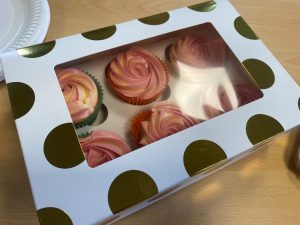 Huge thanks to all the branch team over at Allied Healthcare – Barry for the generous donation of £188. The domiciliary care organisation chose to raise funds for Mind in the Vale of Glamorgan as their local mental health charity.
Special thanks go to Sian Sjodian, branch fundraising champion who went above and beyond to put together the beautiful hampers and sold the raffle tickets. It was great to meet Nicola and Sian this afternoon, who updated us on their fundraising endeavors. A shout out also to Natalie Jones and Lacey Sjodian for providing the delicious cakes for a coffee and cake day, to Colour Nails Club for donating a voucher and all those who donated prizes.
The team have further events planned in the future – we can't wait to hear about them!
If you're interested in fundraising for us at Mind in the Vale, please get in touch. 
Posted on: 29th March 2022