SUICIDE IS THE BIGGEST KILLER OF MEN UNDER 50

A suicide prevention campaign, giving men the opportunity and encouraging them to talk and ask for help. 
TALKING SAVES LIVES, TALK TO SOMEONE NOW 
---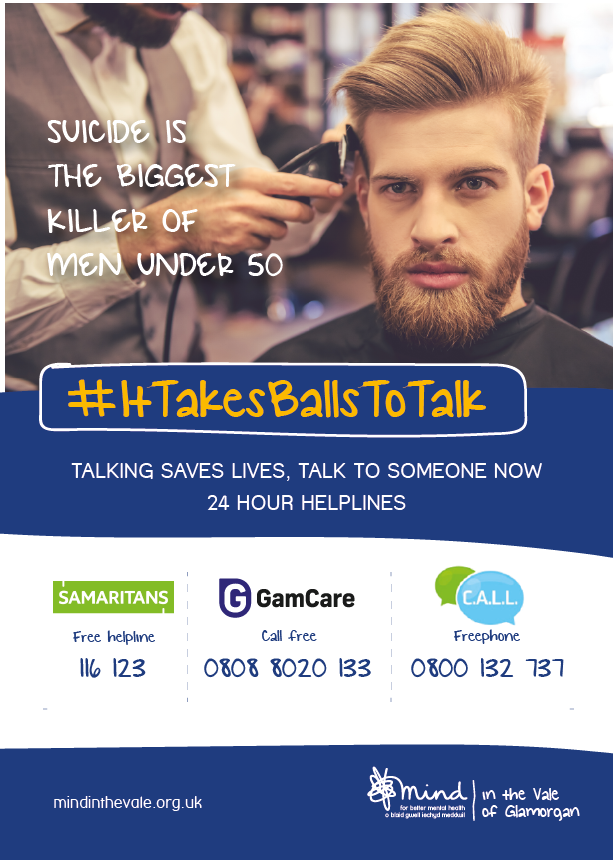 Mind in the Vale are proud to work in partnership with local rugby clubs, football clubs, barbers shops and gyms to promote the #ItTakesBallsToTalk campaign. We will be offering FREE promotional materials, support and advice, suicide prevention and mental health awareness training.  
If you'd like to be involved in the campaign, we'd love to hear from you. 
Please get in touch on 01446 730792 or email admin@mindinthevale.org.uk
To view our posters please click on these links:
Suicide Prevention Training
For information or to book on to our suicide prevention training, click here. 
Click here to take a look at the #ItTakesBallsToTalk impact report. 
Supporter / Event Gallery 
Thank you to our supporters 
Barry Town RFC
Penarth RFC 
Thank you to The National Lottery Community Fund for providing the funding for the promotional materials. 
Thank you to our funders